The African continent currently presents a complex and contradictory scene, but one thing is undeniable: if Africa were to attain more unity, it would be able to achieve an economic breakthrough in 20 years just like China or India did, renowned economist and Columbia University Professor Jeffrey Sachs told Sputnik.
"Africa was divided by the European imperial powers into 55 countries, many of which are quite small… But the continent as a whole is 1.4 billion people, and that is comparable to the single country of China and the single country of India. So if Africa were to get its act together, to have more unity, and to have a unified continental scale economy, Africa will be able to follow along roughly 20 year cycles: China started first (around 1980), India started its rapid growth (around 2000)," the Columbia University Professor stated.
"Africa as a unified economic space could achieve consistent 7 to even 10% economic development over the coming decades from 2020 onward. This is quite interesting. So this is the positive side of the story for Africa," he added.
The recent admission of Africa as a union - the African Union (AU) - as the 21st member of the G20 was a very significant event, the economist noted.Indian Prime Minister Narendra Modi had announced the inclusion of the 55-member African Union, one of the largest regional blocs in the world, established in 2002 as a successor to the Organisation of African Unity (OAU), as a permanent member during the first session of the G20 leaders' summit in New Delhi.According to Jeffrey Sachs, the move is important for the G20 as it "brings in other 1.4 billion people to the table with one seat, the AU seat." But it may also have the "powerful effect of reinforcing the unification of the continental-scale economy in Africa." This, in turn, would boost Africa's economic advance during the coming several decades, Sachs underscored.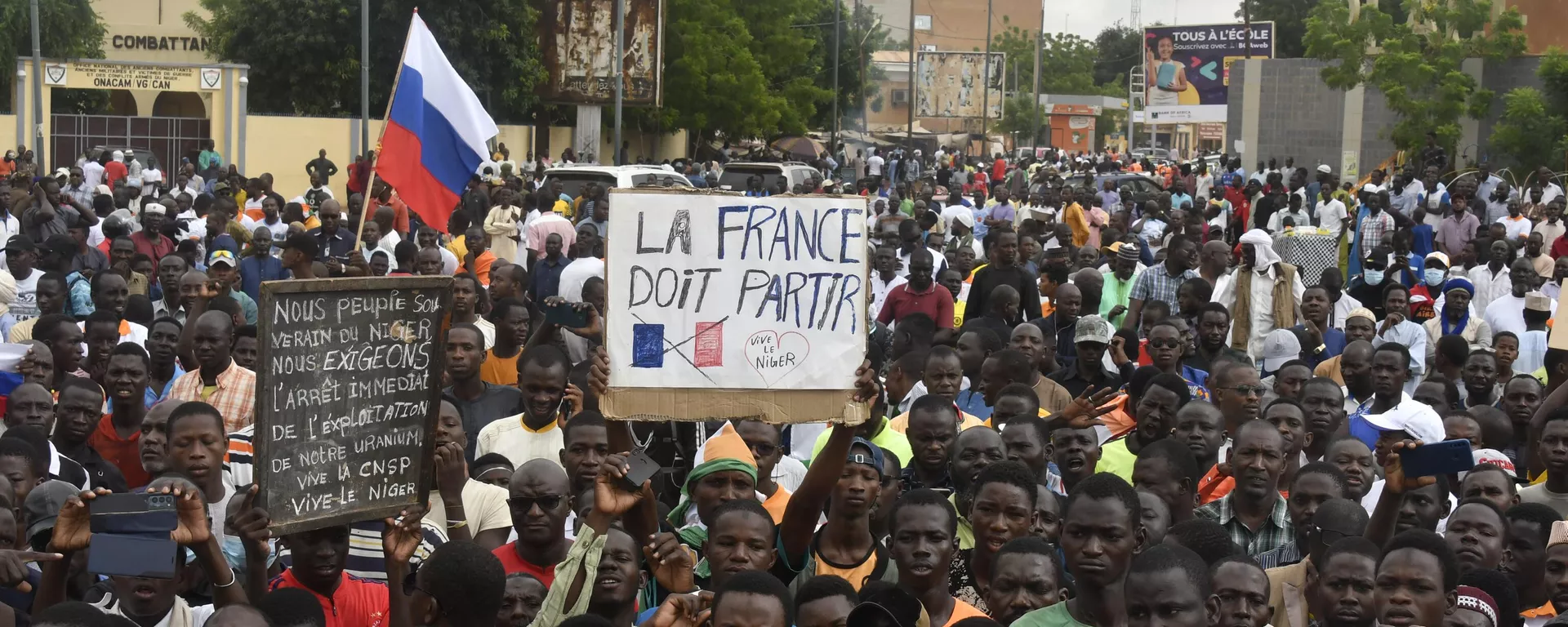 'Instability Built Into Extreme Poverty'
As for the spate of recent military takeovers, diverse economic factors are driving this political wave, said the economist.
"Africa remains the poorest part of the world [...] And the Sahel of Africa, which is the region of the semi to hyper arid region neighboring the Sahara Desert, places like Senegal, Burkina Faso, Guinea, Chad, Niger, Mali, Sudan […] this is the poorest single stretch on the planet because it's mostly landlocked, it's largely bereft of infrastructure […] often sparsely populated and landlocked at the same time. It's poor," Jeffrey Sachs pointed out.
The recent military takeovers have been taking place in these very poor countries, in Guinea, Burkina Faso, Chad, Mali, Niger, with poverty "part of the underlying substrate of all of this," said the economist.
"There is a lot of frustration. There's a lot of instability built into extreme poverty," said Sachs.
The military takeover in Niger took place on July 26, when Nigerien President Mohamed Bazoum was ousted and detained by his own guard, led by Gen. Abdourahamane Tchiani. France condemned the action, while expressing support for "the legitimate government" of its former colony. The rebels, meanwhile, halted gold and uranium exports to France, blocked French media, and denounced several military pacts with Paris. In mid-August, they also demanded that French troops leave the country by early September.As for Gabon, Bongo Ondimba was reelected as the country's head for a third term after securing 64.2% of the vote on August 30. However, the Gabonese military delivered a televised address, declaring the election results canceled and all institutions dissolved. Ondimba has since been placed under house arrest, while the rebels said they unanimously appointed Gen. Brice Oligui Nguema as Gabon's interim president.
"But these coups are popular and they're popular on two bases. Certainly, one is dissatisfaction with the ongoing, chronic and even seemingly worsening poverty. That's, to be sure, always an invitation to some kind of instability or government change. But also there is a very strong anti-colonial […] anti-French reaction in all of this, specifically, in West Africa," Jeffrey Sachs added.
He reminded that it was European companies which "dominated, which took the resources out of these countries at very low prices." At the same time they did not do more than pay lip service when it came to addressing "very deep legacy issues of the former colonial age."
"And so there's a lot of resentment… and a lot of continuing institutions, of course, like the West African Currency Union, which is still under the control of France… So what we're seeing is popular coups, and this is really causing a lot of consternation. Obviously, first in France, but also in the United States, which has put a lot of military bases throughout this region."
"The United States, France and Britain, in their imperial mode, used NATO to overthrow Muammar Gadhafi in Libya in 2011. This was a really just utterly wrongheaded action on so many counts, but a typical US-led regime change operation, and it opened up the Pandora's box of instability throughout the region," underscored the economist.Besides the poverty issue in Africa, part of it is the "continuing reaction to the kind of neo colonial order that remained," added Sachs. The Columbia University Professor reiterated that while the conditions on the continent remain "fragile", Africa's "real prospect comes through economic, […] physical infrastructure integration."
"Membership in the G20 is a signal of that, and it will be a spur for more economic success in Africa," Jeffrey Sachs stated.
Military Bases 'Will Have to Close Shop'
Meanwhile, as Africa struggles to shake off aspects of its neocolonial past, the West still maintains significant military and economic presence in many countries on the continent, in some instances in the form of military bases, boots on the ground. After Niger demanded in mid-August that French troops leave the country by early September, the country's military leadership accused Paris of deploying forces in some West African countries for a "military intervention."Weighing in on whether major Western countries like France, the United States, might move against African integration and cooperation.
"I don't think that the US and Europe can move against African integration without [it] boomeranging, and making African integration even stronger ideologically and politically. I don't think they can do it… And I think that the military bases in Africa from the foreign powers are going to have to close shop and go home. This is what I expect. This is, of course, what Nigeria is demanding of France. And I think it's going to be a more general pattern," Jeffrey Sachs said
Looking ahead, the West cannot stop African integration, supported by Russia and other BRICS countries, the economist believes. Africa has all the potential of becoming a force to be reckoned with in a multipolar world, cooperating with China, on the one hand, with the West, on the other, with Russia, with India.
"It will take some strong leadership in Africa, some recognition that this really has to be done not 55 small countries at a time, but once, with the African Union having the lead, with the vision of making exactly that breakthrough. But I think that's the desirable path. I think it is actually the likely path."
"There are more and more significant African businesspeople, some very rich ones, that want to invest in cross-border trade. There is now an African, essentially, common market […] A unified aviation regime taking hold, so air travel within Africa will be tremendously eased. There really is a lot of fiber being put on the ground for a digital Africa. And so these powerful linkages, they're coming at the nick of time because there is also a lot of poverty and a lot of instability."
Africa's integration will find strong support from Russia, China, India, from Brazil, in other words, from the BRICS leading countries, and from South Africa, added Sachs.
"In general, I believe that regional groupings in the world will become more and more powerful over time because a lot of our technologies really operate necessarily beyond national boundaries but at a regional scale. So what I'm saying about Africa I think will also be true about South America. I think it will also be true about Southeast Asia, ASEAN and so forth. But I think that these forces of regional integration in Africa are especially powerful because they really are the path for Africa to finally break out of the poverty and the colonial legacy," he commented.
He pointed out that for Africa to be in a situation where most of the world sees it as a "dynamic player," that is "going to take years to come."
"For Africa, there's 20 years of hard work and hard investment to make the basics, to get the electrification in place, to get the basic transport infrastructure in place. That's the work of the next 20 years. But if Africa behaves as a unified system, it's going to succeed in that," Sachs said.